Welcome to Part IB Ecology, Evolution & Conservation
Course contacts
Course Organiser: Prof Lynn Dicks
Senior Examiner: Dr Sonja Dunbar
Course Administrator: Francesca Anthony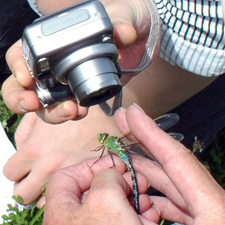 Ecology, Evolution & Conservation is run jointly by the Departments of Plant Sciences and Zoology. It introduces a variety of approaches to study the relationships between plants, animals, and the environment. It begins and ends with investigations from different (biogeographic and palaeoecological) perspectives into the importance of humans in ecology, specifically considering our impacts on the planet, from our origin as a species to our current major influences on Earth's systems, including global climate change and biodiversity loss.
The course introduces and explains the dynamic processes that regulate species populations and structure ecological communities. It introduces the major terrestrial and marine ecosystems, explaining how their distributions are shaped by large-scale patterns of climate, fire and species interactions. The dynamics of these systems on different scales of time and space are emphasised, including a deep dive into the role of plants in biogeochemical cycles. The interface between evolution and ecology is demystified, with detailed consideration of how evolutionary and ecological processes interact and influence one another. The course covers the structure and functioning of ecosystems, how biodiversity is measured, how wild populations and entire ecosystems are managed. It looks at the key role of museum and herbarium collections in understanding long-term environmental change and provides an introduction to the implications of global environmental change for human health and well-being.
Prerequisites
There is no prerequisite for IB EEC. Whilst it may be an advantage to have taken Part IA Evolution and Behaviour, it is not necessary to have taken this or any other particular first year course. Interested students who have no experience of biological courses in Part IA are advised to consult their Director of Studies.

Aims and learning outcomes
Aims:
To develop key ecological concepts and approaches
To introduce major ecosystems
To offer information and literature references to enable students to develop and defend a reasoned position on current issues in evolution, ecology and conservation
To introduce habitats, organisms, approaches and the methodology of ecological research on the field course and through project work
To provide a strong platform for Part II modules in ecology and conservation
Learning Outcomes:
At the end of the course, students should be able to:
describe the main ecosystems on Earth and interpret their distributions;
explain how ecosystems are structured, and how they function, using clearly defined scientific terminology;
define the main ecological and evolutionary processes, including succession, dispersal, speciation, extinction and drift, and explain how these processes operate to structure ecosystems;
construct rational, evidence-based arguments to address controversial issues about the interaction between humans and the environment, such as large-scale biodiversity loss, invasive species and climate change;
design and carry out hypothesis-driven ecological research, including statistical analysis using R;
present ecological findings and arguments to colleagues, in an engaging and effective manner.
---
Course Structure
The full lecture and additional sessions and excursions timetables will be posted on the course Moodle site and timetable.cam.ac.uk for students.
Lectures: Weekly - Mon, Wed, Fri 12.00 – 11.00 in the Department of Zoology Main Lecture Theatre.
Additional sessions, excursions and project work: You are expected to reserve 13.00 – 17.00 every Monday for EEC sessions. These will be a combination of excursions into the field, workshops, talks and time to work on projects.
Assessment
Weighting
EEC Exam Paper 1
33.3%
EEC Exam Paper 2
33.3%
Project

33.3%

75% of this mark is for the project report
25% is allocated by the supervisor for the practical performance.
Projects
There are no formally assessed practical classes in IB Ecology, Evolution & Conservation. The practical element of the course is fulfilled by the project, a substantial piece of work (max. 3,000 words) undertaken independently during term-time, initiated either during the Juniper Hall field course or in Michaelmas Term. The project makes up one third of the overall EEC mark.
Juniper Hall field course projects:
Students on the field course are expected to continue working on the project that they initiated and collected data for at Juniper Hall. The field course project submission date is earlier than those undertaking a term-time project.
Term-time projects:
A list of available projects will be provided to students who did not attend the Juniper Hall Field Course at the start of Michaelmas Term, or students can devise a bespoke project title with a Zoology or Plant Sciences supervisor. There is no disadvantage in undertaking a term-time project rather than a field course project. As data collection will take place during term, the submission date for term-time projects is later.
Students must have the approval of an appropriate project supervisor before beginning the work. The project should not take more than 60 hours of work for data collection, data analysis, and construction of figures and tables; the write up may be in addition to this.
Excursions and Additional Sessions
Students are expected to attend all timetabled excursions on Monday afternoons, although the additional 'R' workshop sessions and talks are optional, primarily aimed at those doing term-time projects. The course Moodle site will be updated with specific excursion information such as coach times and required equipment. If there is nothing scheduled for a Monday afternoon students are expected to dedicate the afternoon to working on their projects.
The excursions give students a chance to experience some of the range of habitats and species found locally and the diverse ways that humans can influence and interact with the natural world.
Supervisions
In Part IB Ecology, Evolution & Conservation, students may be assigned different specialist supervisors for different parts of the course. The appointment of supervisors is the responsibility of your Director of Studies. The Teaching Office Coordinator can help by informing Directors of Studies of the names of those willing to supervise. When you know the name of your supervisor, get together with your college supervision partners and contact the supervisor in good time. If you do not know the name of your supervisor a few days before the start of the relevant block of lectures, contact your Director of Studies without delay.
You should expect your supervisor to set one or two essays, or comparable exercises, for each section of the course, together with appropriate additional work based on the lectures additional sessions. Past Tripos papers are available on the course Moodle site and you are well advised to become familiar with the structure of the papers and the sorts of questions that have previously been set.
Supervisions offer an extremely valuable opportunity to discuss your work in depth. Not only do they help you to obtain a good understanding of the subject matter, they also help develop your ability to present material orally and in writing.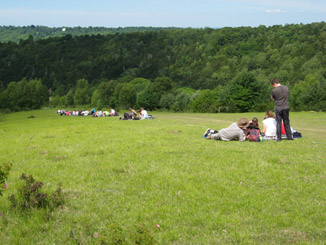 ---
General background reading
Titles with an asterisk [*] are available as eBooks via iDiscover.
Recommended Textbooks:
Begon, M., & Townsend, C.R. (2021) Ecology: From Individuals to Ecosystems, 5th edition, Blackwell Science. (*4th edition, 2006, available as an eBook).
Eichhorn M.P. (2016) Natural Systems: The Organisation of Life, John Wiley and Sons.
Recommended Popular Books:
*Balmford, A. (2012) Wild Hope: On the Front Lines of Conservation Success, Chicago.
*Diamond, J. (1998) Guns, Germs & Steel, Vintage. • Flannery, T. (2005) The Weather Makers, Text Publishing Company.
---
FAQ's
I am not able to attend the Juniper Hall Field Course. Can I still take IB EEC?
Yes! Although we strongly urge students to attend the field course if possible as the practical work conducted forms the basis of their project, alternative projects are made available at the beginning of Michaelmas Term for those not able to attend.
What are the key skills of Ecologists?
As an ecologist you will learn to apply your knowledge or ideas in new contexts and transfer onto different situations. This is a valuable skill applicable in many different work environments. During the course you will conduct your own scientific research project and gain important practical experience. You will learn how to ask and approach scientific questions to obtain quantifiable results and to understand what conclusions can and cannot be drawn from such evidence.
What career paths can I choose as an Ecologist?
The ecologist's abilities to identify problems, systematically explore and evaluate them to understand cause and effect are valued in many work areas.
Some of the more obvious employers are universities, government agencies, consulting firms, research laboratories, conservation organizations, museums, field stations and industry. In our experience there is a strong and growing job market for ecologists, not just in research but in conservation, environmental management and sectors like farming, water, energy and transport.
---