Easter Vacation Field Courses 2021
| Location | Dates | Organiser |
| --- | --- | --- |
| Orielton, Pembrokeshire  | 24 - 31 March April 2021 | Dr David Aldridge and Professor Bill Amos |
| Slapton Ley, Devon | 25 March - 1 April 2021 | Dr Ed Turner and Dr Sam Brockington |
---
Currently we are still intending to run these courses, but will be constantly reviewing the situation with changing guidance. Therefore, please note that these are subject to cancellation under the circumstances. We will keep you fully informed of any updates.
Students have the opportunity of attending one of the one-week field courses held away from Cambridge in the Easter Vacation. These represent an unparalleled opportunity to get up close and personal with some of the extraordinary diversity of life that shares the planet with us. Field courses offer one of the first opportunities to carry out your own independent projects. If you have been to either of the field stations before as part of a school trip, do not think that you have done this already – ours will be a very different experience! Students will be required to contribute £50 towards subsistence. 
Aim: To provide an introduction to the biology, ecology and diversity of organisms in natural habitats. To enable students to study, in their natural habitats, some of the organisms discussed during the lectures, and to illustrate some of the concepts, such as adaptive morphology and behaviour covered in the rest of the course.  Students will be given the opportunity to carry out research on their own, or in small groups, which they will present in short talks at the end of the course. 
Applying for a course: Both field courses were found to be very valuable and enjoyable by those who attended in recent years, and all students are encouraged to attend one of the courses. Information on how to apply and advice to help you decide which course will best suit your interests will be available towards the second half of the Michaelmas term.  Applications will be made online, and the closing date will be towards the beginning of the Lent term. As there are a limited number of places on the courses, places will be allocated on a lottery basis, if oversubscribed.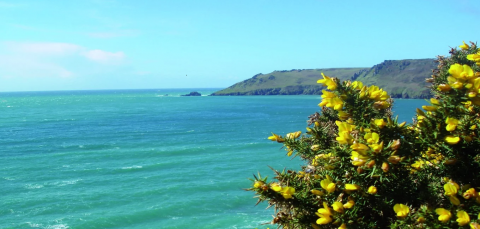 Slapton, Devon

Orielton, Pembrokeshire
---
Student comments on previous courses:
The course was wonderful. The work was well-pitched, without too much formal lecturing or pressure, and practical work was fascinating and well worth it. There haven't been many weeks when I've learned so much without noticing it! Full marks!
The course was really useful and I learned a lot from it. I especially enjoyed the project, as it was good to design and carry out our own experiments.

Flexible formatting allowing individuals to develop specific fields of interest was ideal.
Learnt more from this one week about the diversity of animals than I did from all the lectures.
Greatly enjoyed the fieldwork especially, helpful and fitted in with the course well. Keep it up! Keep it going!